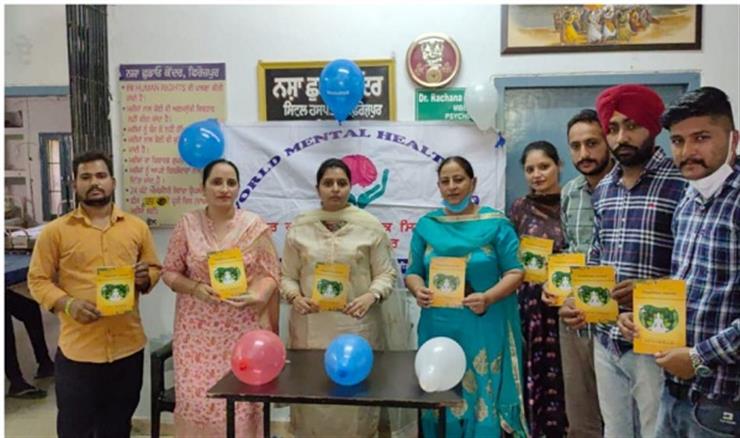 Patients with mental illness should be treated without fear: Dr Rajinder Arora
FEROZEPUR: In accordance with the instructions issued from time to time by the government and the district administration, the health department of Ferozepur is fighting coronavirus and dengue with all vigor and all other health programs are implemented effectively.
Likewise, the government-run national mental health program is also an important program. Drug addiction is also a mental disorder. There has been a huge increase in the number of people with mental illness today.
This information was shared by Dr Rajinder Arora, Civil Surgeon, Ferozepur and Deputy Medical Commissioner in a message to residents of the neighborhood on the occasion of World Mental Health Day.
Dr Arora said the theme for this year's World Mental Health Day is "Mental Health in a Equal World". .
He was also told that people with mental illnesses are not aware of their illness, so they do not recognize psychiatric disorders due to mental stress and anxiety.
The insomnia, restlessness and mistrust he mentions are all early symptoms of psychiatry, so the government has psychiatrists available in all districts of Punjab for psychiatric services. It is also possible to treat mental illnesses in a civilian hospital in Ferozepur district.
Dr Manchanda, deputy medical commissioner of Ferozepur district hospital, said that initially a person took drugs at the behest of their peers or as an experiment. He also said that drugs are the door to destruction. In which once a person enters, he or she has to face great difficulties in getting out of this drug swamp. He revealed that when he is addicted to any type of drug it destroys him physically, mentally, financially and intellectually and the addict takes a heavy toll on his family and society.
He said that drug addiction was a mental disorder and that one could get rid of leprosy from drugs with determination and proper medical help.
He informed that the services of psychiatrists, counselors and medicines were available free of charge at the detoxification center of the Ferozepur district hospital.
Psychiatrist Dr Rachna Mittal has demanded that if a family member is addicted to drugs and suffers from psychiatry, they should be immediately taken to the public hospital for treatment, where the patient's identity is kept secret. Apart from this, free detox and counseling services are available at all oat centers operating in the district. He also called on all residents of the district to take advantage of the health facilities provided by the government.
A large number of officials and employees of the Ministry of Health of Ferozepur were present on the occasion.