Pastors have experience with mental illness
More pastors have seen mental illness on their benches, while some have seen it in themselves. A Lifeway Research study explores American Protestant pastors' experiences with mental illness and how well equipped their churches are to respond to those who need help.
A majority of pastors (54%) say that in churches where they have served on staff, they have known at least one church member who has been diagnosed with a serious mental illness such as clinical depression, bipolar or schizophrenic. Most of these pastors had experience with small numbers: 18% say 1-2 and 18% say 3-5. Fewer pastors say they have known 6-10 (8%), 11-20 (5%) or more than 20 (6%). About a third (34%) say none of their church members have been diagnosed with a serious mental illness, while 12% don't know.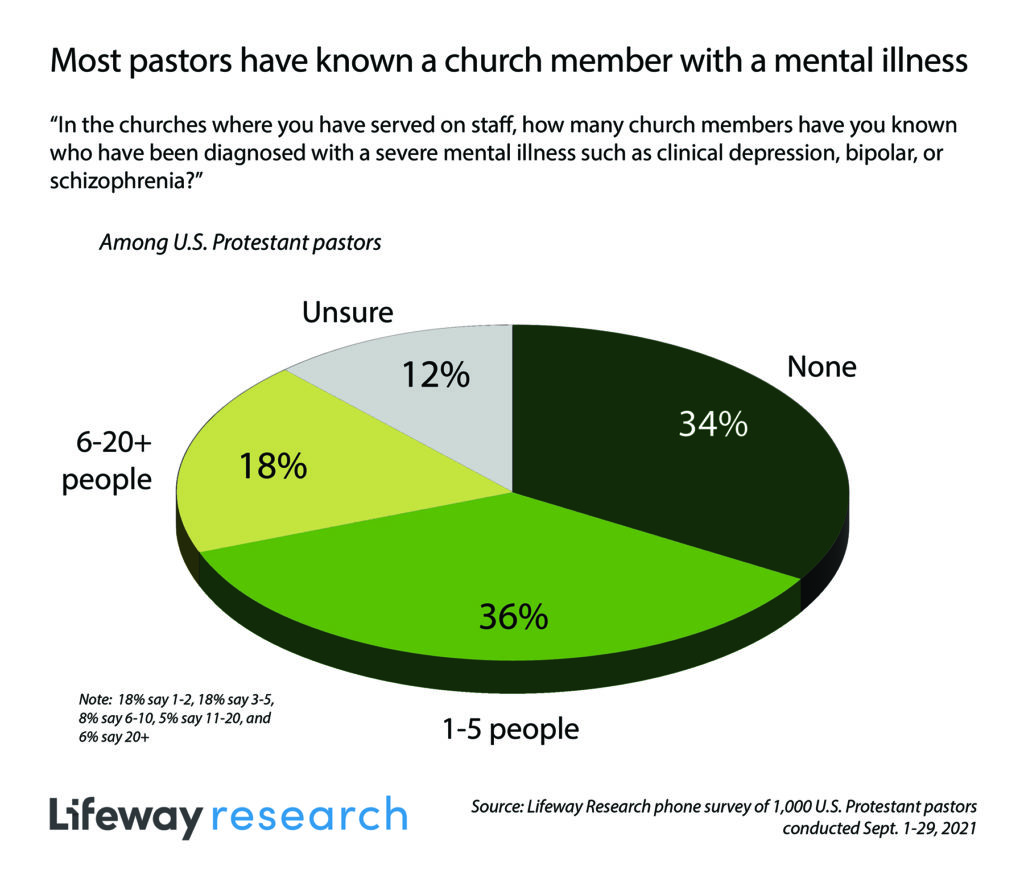 "There is a healthy generational shift, as younger and middle-aged pastors are much more likely to have encountered people with serious mental health issues at church than older pastors," said Scott McConnell, executive director of Lifeway Research. "However, it is unclear whether the presence of people with difficult mental illnesses is increasing among church members or whether they have simply felt more comfortable sharing their diagnosis with young pastors."
Pastors 65 and older (46%) and those without a college degree (52%) are more likely to say they have not known a church member with a serious mental illness.
Twenty-six percent of American Protestant pastors say they have personally struggled with some type of mental illness, including 17% who say it has been diagnosed and 9% who say they have experienced it but have never been diagnosed. Three-quarters (74%) say they have never struggled with a mental illness.
Compared to a Lifeway Research 2014 study, a similar number of pastors today say they have endured mental illness themselves (26% vs. 23%). However, more pastors now say they have been diagnosed (17% vs. 12%).
"During the COVID-19 pandemic, many Americans have faced mental health challenges," McConnell said. "More pastors today are seeking professional help, as evidenced by the fact that more pastors have been diagnosed with mental illness. Younger pastors are the most likely to say they have endured mental illness.
Pastors under 45 (37%) are the most likely to say they have struggled with some form of mental illness.
Church help
Congregants may not often hear about mental illness from the pulpit, but most churches hear about the topic at least once a year from their pastor.
Six in 10 American Protestant pastors say they speak to their churches about acute or chronic mental illness in sermons or large group messages at least once a year, including 17% who bring up the topic about once a year. For more than 2 in 5 pastors, the problem comes up several times a year, with 30% saying they talk about it several times a year, 9% about once a month and 4% several times a month.
Other pastors bring up the subject much less frequently, with 26% saying they rarely talk about it and 11% never talk about it. Another 3% are unsure.
Pastors are more likely to bring up the subject in a large group today than in 2014, when 49% said they rarely or never talked about it. Eight years ago, 33% mentioned the problem several times a year or more, compared to 43% today.