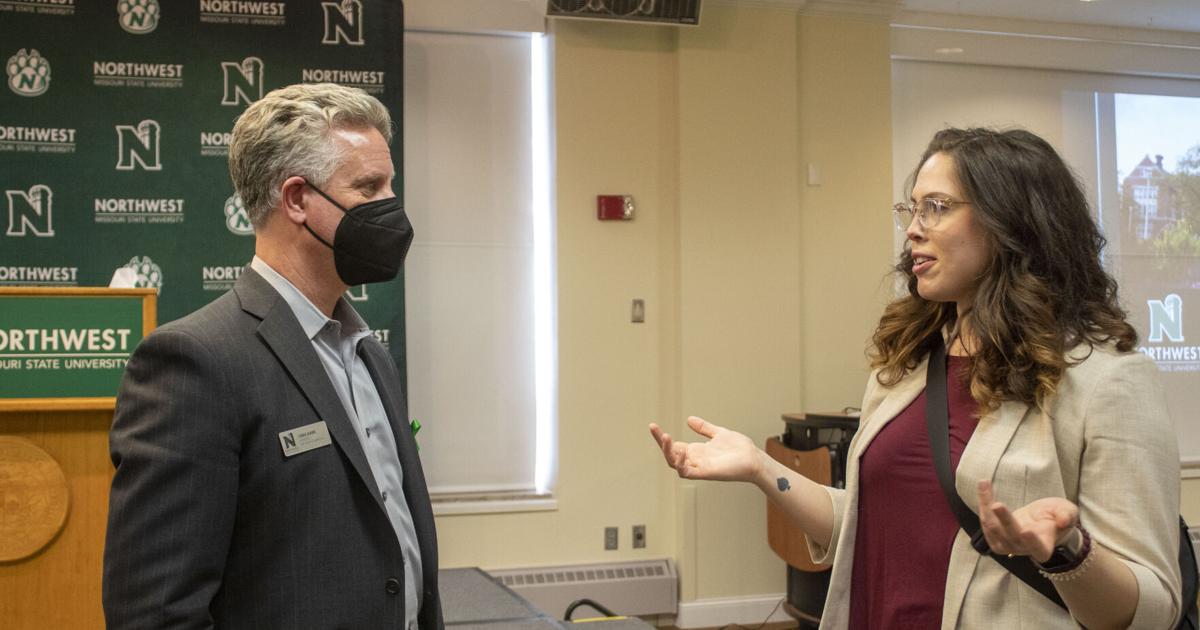 Northwest Hosts Third Annual Mental Health Event to Destigmatize Mental Illness | News
Northwest hosted its third annual mental wellness event, I Will Listen, aimed at reducing the stigma surrounding mental illness and promoting discussion about mental health disorders.
The event featured speakers from the Behavioral Science Association, the University Wellness Center, mental health professionals and a student from Nodway-Holt.
Attendees had the opportunity to participate in yoga, Zumba and meditation sessions and visit various resource rooms, in addition to the art exhibit where community members displayed artwork representing their interpretations of mental health.
The event began with an introduction from Hope 4 All coordinator Monica Ziegel.
"The goal of I Will Listen is to end the stigma around mental health," Ziegel said. "If anything good has come out of the COVID-19 pandemic, I think it's the fact that we're focusing more on mental health."
Behavioral Science Association President Olivia Babinski was the first speaker. Babinski opened up about his mental health struggles and offered some advice to attendees.
"There are so many opportunities for us to impact a person's life," Babinski said.
The second speaker was Nicole Harnisch, Certified Performance Counselor in Mental Health. Harnisch focuses on the mental health of athletes. As an athlete herself, she understands the pressure athletes face on a daily basis and the effects this can have on their mental health.
"I think athletes have a special way of themselves. They have some really amazing highs, but some pretty tough lows," Harnisch said. "There's an added layer of stigma for athletes."
She said athletes are expected to be mentally tough, but often there is no one showing them how.
The third speaker was Isaiah McBride, a functional family therapist. His job is to isolate the problem and help the family overcome it.
"We shouldn't look at the negatives. We have to look at how we communicate with each other," McBride said.
Ziegel wept as he introduced the fourth speaker, Nodaway-Holt student Payton Walker. This speaker hit close to home with Ziegel, because Walker is his daughter. Walker was diagnosed with obsessive-compulsive disorder and schizophrenia in late 2021.
"I wanted to be able to give a perspective of schizophrenia from a parent's perspective and then from their perspective," Ziegel said.
Walker struggled with his mental health for years. She was misdiagnosed and the medication prescribed by her GP did not help. She had auditory and visual hallucinations, she said, and was convinced she was haunted. She attempted suicide and only then was she referred to a counselor and a psychiatrist.
"I hate that a suicide attempt was what it took to orient me, and not years of no mental health improvement," Walker said.
However, a proper diagnosis wasn't the end of Walker's troubles. She still struggles with the stigma surrounding schizophrenia due to the media portrayal of her disorder.
"Mental health issues are normal and we shouldn't be ashamed of them. So here's to ending the stigma," Walker said.