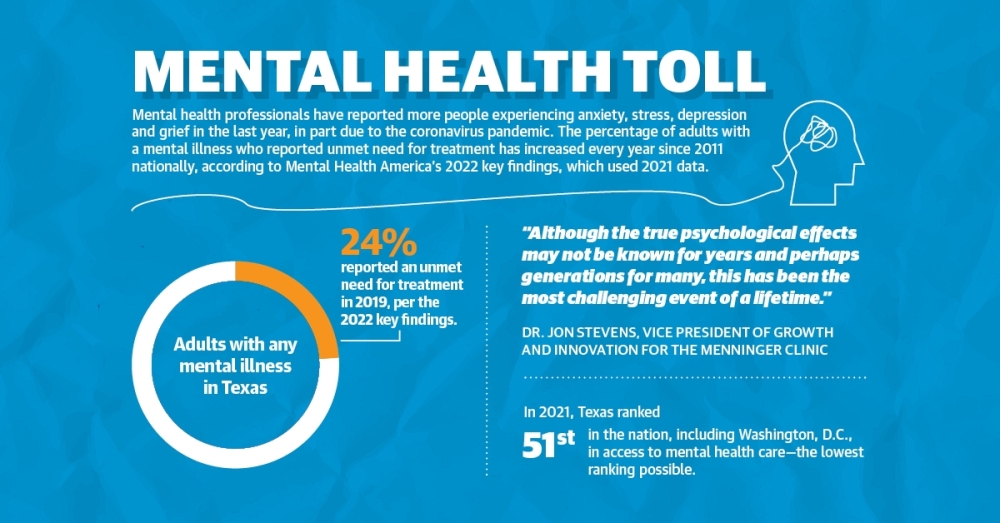 Mental health toll: Pandemic worsens mental health in Pearland, Friendswood area
Since the pandemic hit the Houston area in March 2020, resulting in limited socializing, an economic downturn and a state of uncertainty, mental health has deteriorated for many patients in Pearland and Friendswood, health providers said. Mental Health.
Mental Health America's key findings for 2022, which uses data from 2021, organized each state and Washington, DC, by prevalence of mental illness and access to mental health care. Texas ranked 27th overall, but fourth in prevalence of mental illness and 51st – the lowest possible – in access to care.
Local experts said access to mental health care was an issue in Texas long before the pandemic. In 2017, Mental Illness Policy Org. reported that the state allocated 1.2% of its total public spending to mental illness; that compares to states with the highest spending, such as Arizona, Pennsylvania and Maine, which allocated 4.8% to 5.6% of their spending to mental illness.
"Unfortunately, the mental health system[s] in Houston and Texas proper were already lower than many other states before the pandemic," said Dr. Jon Stevens, vice president of growth and innovation for the Menninger Clinic, a psychiatric facility in Houston. "Although the true psychological effects have not been known for years and perhaps generations for many, this was the most difficult event of a lifetime."
Mental health centers in Brazoria and Galveston counties said COVID-19 has exacerbated anxiety and depression already present among residents and put even more pressure on already understaffed clinics. Telehealth has improved access for some patients, and providers see group support as a potential way forward for those hoping to improve their mental wellbeing.
Skyrocketing demand
Across the Pearland and Friendswood region, mental health providers and experts said the pandemic has underscored the need for more services as demand increases.
In Galveston and Brazoria counties, the Gulf Coast Center serves as the local mental health, intellectual disability and developmental authority as well as addiction recovery provider.
CEO Melissa Meadows said by email that the center had set up a crisis counseling program designed for those in need of free emotional support caused by the pandemic. From October 2020 to Jan. 25, 2022, the program served 908 individual participants and 2,041 group counseling participants, Gulf Coast Center officials said.
The center has also given mental health first aid classes to help participants learn to recognize when someone is in need of emotional support or mental health services, she said. The Gulf Coast Center conducted 29 trainings in Galveston County from fall 2019 through fall 2021.
Meanwhile, UTMB Health has two Webster sites that provide mental health services. While patient volume has remained stable during the pandemic, clinics are limited based on the number of providers and their workload caps, UTMB officials said.
UTMB Health Psychiatry Webster on Texas Avenue saw approximately 9,900 patients from September 2019 to August 2020; this number increased by almost 20% to around 11,800 patients seen from September 2020 to August 2021, according to UTMB data.
While the introduction of telehealth has opened doors in terms of access, demand far outstrips the number of providers available for counselling, said Jeff Temple, professor and registered psychologist at UTMB.
"There are only a limited number of hours and a limited number of people that an individual [provider] can see," Temple said. "The increased access has helped, but the demand is so high it's still leaving people craving."
COVID-19 stressors
The uncertainty of the pandemic combined with other major events, such as the February freeze, has created conditions that many are unable to manage on their own, Temple said. He and Dwight Wolf, medical director of the Psychiatry and Behavioral Services Outpatient Clinic at UTMB Health, said anxiety and depression among patients in the area have increased significantly throughout COVID-19.
Burnout is a real possibility for providers trying to meet the varied needs of patients, whether remotely or in an office, Temple said.
"I could hire 10 psychologists, and they'd probably be full in a few months," Temple said. "The demand is there. … The suppliers are simply not there.
Many people wait until they're in crisis to seek help, which requires immediate intervention, and behavioral therapy is best delivered in person, Meadows said. The increased stress and vulnerability people are feeling has led to an increase in crisis incidents, she said.
According to Meadows and Galveston County Health District CEO Philip Keizer, the county has seen an increase in deaths and substance use associated with opiates during COVID-19.
Keiser pointed out that clinics for the treatment of substance use disorders are needed more than ever and that existing clinics can barely meet current needs. For those seeking mental health treatment, the waiting lists are long, Keizer added.
"If people have mental health issues, there are very few options for them if they don't have money and insurance," he said. "Quite frankly, there aren't a lot of options for people, even if they do."
Kristi Ottis, clinical therapist and CEO of Friendswood Counseling Center, said her center's waiting list hit an all-time high in late 2021.
Ottis said she frequently had to refer new patients seeking services to other centers when the Friendswood center's caseload was full. At least 100 new patients requested services in November and December and had to be referred elsewhere.
While Ottis also attributed the volume to holiday stressors, she said the waitlist shows a continued increase in the need for mental health services.
"I'm definitely looking to hire additional clinicians…because we have the need, and we really want to be able to meet the needs of the community," she said.
Group support
Providers in Brazoria and Galveston counties said they hope community-centered interventions, from group therapy to hotline support, can help residents make lasting changes to their mental health at the facility. to come up.
Community Health Network-Pearland Family Health Center provides primary care and behavioral health services, including individual and group counseling as well as psychiatric services.
In 2019, CHN sites in Brazoria, Galveston, and Harris counties provided behavioral health services to 16,585 patients. The number of patients increased by nearly 53% between 2019 and 2020 to 25,375 patients, according to CHN data. Demand for services increased again in 2021, with RCS providing behavioral health services to 35,843 people last year.
Additionally, RCS provided mental health services to more patients in the month of January than any other month; 3,400 patients were served, 7.5% of them in Pearland postcodes, said Ezreal Garcia, CHN's director of community relations and emergency preparedness. He said he didn't see it slowing down anytime soon.
"Just because an emergency dissipates or eventually ceases to exist does not mean that the trauma is [not] necessarily widespread," he said. "Some people may be more…prepared or willing to seek counseling because they can recognize these challenges early, [but] most individuals are not.
He said this can happen for a variety of reasons, including that the person may not have the time or the ability to assess their mental health or they may not be comfortable see a mental health specialist.
CHN offers individual and group consultations as well as in-person and virtual psychiatry services. Although CHN offered telehealth before the pandemic, Garcia said virtual visits accounted for 85-95% of patient visits in 2020. Today, virtual visits account for about 65-70% of mental health-related visits. , did he declare.
Meanwhile, the UTMB has an SMS support service in which subscribers receive three weekly messages. Temple said these can be useful for counseling and motivation about substance use disorders.
For those hesitant to seek help, Ottis said help is available for those looking to reduce their symptoms and live happier, healthier lives.
"Asking for help is certainly not a sign of weakness; it's actually a sign of strength, and it takes courage and vulnerability to reach out," she said. "So I would encourage anyone who had any type of struggle not to feel like, oh, this is too big or this is too small to ask us for help or help."
Kelly Schafler contributed to this report.