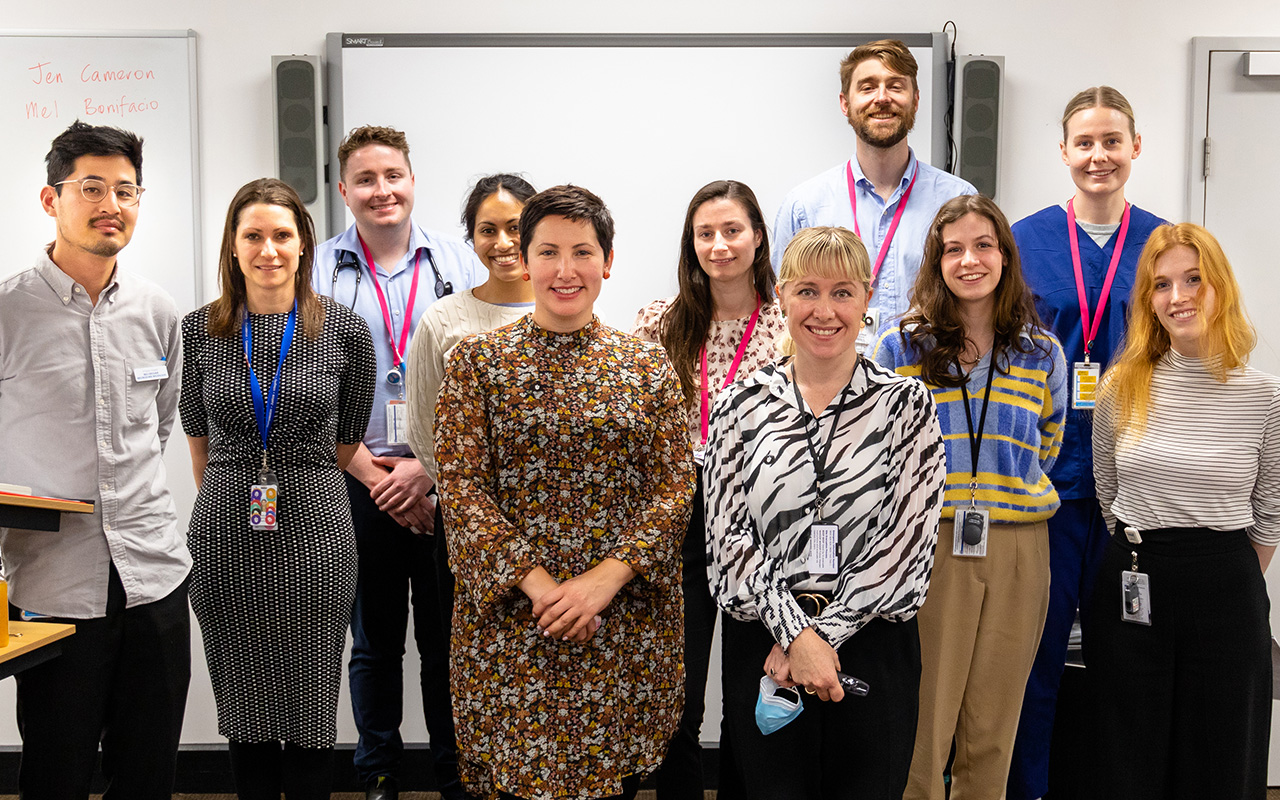 Mental health: JMOs mobilize to help their colleagues
A TEAM of Junior Doctors (JMOs) from St Vincent's Hospital in Sydney set out to offer mental health support to their colleagues, after training with public insurer iCare.
Dr Jessica Green, an experienced emergency physician who leads JMO and undergraduate teaching at the hospital, said JMO's group, dubbed the 'rainbow residents', were a diverse group who s volunteered to provide regular support to their peers.
"A new initiative will see them take part in mental health training so they can be more aware of colleagues who might be struggling at work, and then help them access support," said Dr Green.
Data from the Australian Bureau of Statistics suggests that 45% of Australians experience a mental health problem in their lifetimeand that their workplaces can provide them with vital early supports.
"We encourage all of our employees to share their insights and experiences at work, so we can truly understand and support everyone's well-being," Dr. Green said.
"Peer-to-peer mental health training will allow our young physicians to thrive in the workplace, removing stigma and having positive conversations about mental health.
The training was delivered by iCare injury prevention manager Jen Cameron, who said the goal of all peer support programs is to trigger early interventions, which reduce health pressures staff mentality.
"Workplace peer support programs offer people at risk of mental health issues a way to connect with co-workers and seek out the support they need," she said.
"It's not a magic bullet to stopping all forms of mental illness, but it can be the first step in seeking help and creating a safe space to feel supported," Jen Cameron said.
"Physical symptoms that come on slowly over time – such as trouble sleeping, feeling constantly flat or tired, or lack of appetite – can sometimes indicate a hidden psychological risk. Having trained peer helpers on site work can help individuals identify pressures and take action.
Employers and organizations wishing to find out more about the mental health training provided by iCare can seek advice from [email protected]
Who is most likely to get long COVID?
According to a study, long COVID symptoms are more frequently reported by women, people in poor general health before the pandemic and people aged 50 to 60. Posted in Nature Communication. The results are based on data from longitudinal surveys and electronic health records in the UK. Long COVID, also known as post-acute COVID syndrome, is generally defined as having one or more symptoms of COVID-19 4 weeks after infection. The syndrome has been widely reported, but the incidence and risk factors for the disease are not well understood. This is partly because the symptoms used to define long COVID often vary between studies, which are based on relatively small sample sizes, and may not be generalizable to the whole population. To investigate cases of long COVID, researchers at King's College London used data from 6,907 people with self-reported COVID-19 from ten population-based longitudinal health surveys in the UK that had been established before the pandemic. In parallel, they also used data from electronic health records collected in the spring of 2021 for 1.1 million people diagnosed with COVID-19. They found that the proportion of suspected COVID-19 cases in longitudinal surveys reporting symptoms for more than 12 weeks ranged from 7.8% to 17%, with 1.2 to 4.8% reporting "debilitating" symptoms. Additionally, they found that in electronic health records, only 0.4% of COVID-19 cases had a long diagnosis or COVID-related referral; however, they note that diagnostic codes had not been introduced for long COVIDs in health care settings until December 2020. Although reporting of long COVIDs varied across studies, the authors suggest that an increased risk of long COVID was associated with increasing age up to 70 years. years. Female gender, poorer mental health and general health status before the pandemic, obesity and asthma have also been identified as risk factors in longitudinal studies and health records. The authors cautioned that while causal inferences cannot be drawn, their findings underscore the need for further research into risk groups. They also suggested that further representative population-based studies are needed to improve estimates and help in health care planning.
Smarter scans help blood cancer patients
A clinical trial led by the Peter MacCallum Cancer Center found that positron emission tomography (PET) and computed tomography (CT) combined with fluorodeoxyglucose (FDG) are more effective in investigating the causes of prolonged fever in patients with cancer of the blood than conventional CT scans. The multicenter randomized trial, Posted in The Lancet Hematology, found that patients who received a combination FDG-PET/CT scan instead of a conventional CT scan could receive more targeted treatments. This reduced the use of broad-spectrum antibiotics and also the time spent in hospital. A combination FDG-PET/CT scan is a combination FDG-PET scan that produces images of how organs or tissues inside the body use sugar, a key fuel for body organs, with a CT scan ( CT) which provides more anatomical information. FDG is the sugar compound used as a radioactive tracer in the PET scan. Prolonged or recurring fevers are a serious problem for blood cancer patients because they often have low levels of neutrophils – a type of white blood cell – which help them fight infection. Without enough of these protective cells, an untreated fever can quickly lead to sepsis and even death. Without a clear diagnosis, patients will often receive prolonged treatment with broad-spectrum antibiotics, which increases their risk of developing antibiotic resistance and can also harm their gut microbiome in the long term. "It's better for both the patient and the healthcare system if we can identify what's causing the fever so we can optimally treat it, and not use unnecessary broad-spectrum antibiotics," says the Professor Karin Thursky, principal investigator of the trial. The researchers who conducted the trial also found that patients who received a combination FDG-PET/CT had a shorter hospital stay. It also reduces their risk of health care complications and the cost of their care.
Traffic-related deaths and injuries are the leading causes of death among young people
Research by UNSW Sydney shows that traffic-related deaths and injuries are the biggest killers of young people globally, causing more deaths than communicable and non-communicable diseases or self-harm. The study, Posted in Lancet Public Health, is the first global analysis of transport-related and unintentional injury morbidity and mortality among young people aged 10-24 years. Using the latest data from the 2019 Global Burden of Disease (GBD) study, researchers analyzed deaths and disability-adjusted life years (DALYs) due to transportation and unintentional injuries among adolescents of 204 countries over the past three decades. They found that despite a one-third decline in transport crash death rates since 1990, the number of deaths attributed to road crashes among adolescents continued to rise in some countries. According to research, reductions in transport-related injury and death rates in high-income countries have slowed over the past decade. They only declined by 1.7% per year between 2010 and 2019, compared to a decline of 2.4% per year between 1990 and 2010. Adolescents are particularly vulnerable to the risk of injury due to their growing independence and their tendencies to take risks. However, there has been little research to date that has examined injury patterns in this vulnerable age group. Transport accidents are also becoming heavier in low-income countries, where the proportion of fatalities has almost doubled, from 28% in 1990 (74,713 out of 271,772) to 47% in 2019 (100,102 out of 214 337). Graduated driver's licenses, minimum drinking age laws, lower blood alcohol levels for novice drivers, seatbelt and helmet laws, and school zones have all proven effective. to reduce injury damage when imposed. Interventions for all ages, such as speed enforcement and drink-driving, are also effective in reducing road fatalities. The research also recommends promoting active transportation infrastructure to prioritize alternative travel options and designing streets with the road safety needs of children and youth at the forefront of planning.
Subscribe for free Preview+ weekly newsletter here. It is accessible to all readers, not just licensed physicians.