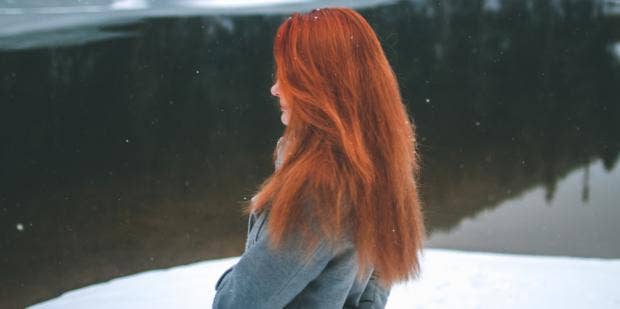 How I got over a nervous breakdown in just 7 days
[ad_1]
By Kait MacKinnon
When I started my last semester in college, I had no idea how unprepared I was.
I had nothing in sight for graduation and had no idea where to start. The pressure of starting class went up in my head and I kept pushing it back to the back of my head to help relieve that pressure.
Finally, I could literally feel myself losing my mind.
Having had previous experience with depression, I was determined not to let it get to me. So I did the only thing I could think of: I became a thug.
After spending a few days feeling sorry for myself and making absolutely no effort to change anything, I launched an operation I called Kaitlyn Goes Rogue.
I dropped the grid for a week and spent that week doing "anti-Kaitlyn" activities – things I normally wouldn't or always wanted to do, but didn't. never managed to do.
Day one
I started my week on a whim. It was a Sunday afternoon in mid-February, but it was unusually hot for western Wisconsin, and so on the drop of a hat, I put on running tights and my running shoes and left my apartment.
I ran until I couldn't feel my legs anymore (so probably around 50 feet) and it was amazing. It was as if a weight had been lifted from my chest.
(6/10 would do it again.)
Day two
I sat for the whole class, but couldn't wait to get out and do something. Sitting in class or at home was not an option.
I was distractedly pulling my nails off when I realized I had never really had a manicure. I never saw the use of it, but damn it, I needed some pampering.
I went straight from my conference room to the nail salon down the street and got myself a full set of gel fillings.
(5/10 would do again, but only because they ended up wreaking havoc on my nails. It's been a month and I'm still dealing with the aftereffects. # Anything)
Day three
I needed more change. A little more drastic than my fingernails. I called a local hair salon to see if they had any openings. They did, so I jumped in the car and drove off.
I didn't want anything too drastic. I liked the length of my hair. So I dyed my normally light brown / dirty blonde hair a dark and dark brown. I put on a few diapers, and I'm in love.
(10/10 would do again.)
Day four
I think this one was the Big One. Drum roll … I have a tattoo! This one is a huge deal for me. I hate needles and I hate pain. And I hate permanence! Woohoo, let's combine the three!
It went well. I only passed out once and love the end result. Also, they gave me Reese's Pieces.
(10/10 would do again.)
Fifth day
I kept a low profile on day five and just released a late night movie with a friend. We saw "How To Be Single", which made me feel a bit worse about myself.
The movie itself wasn't great, but all that matters is that I spent time with one of my daughters.
(1/10 would choose this movie again, 8/10 would do it with my daughters any day.)
Sixth day
Two of my daughters and I hit the shooting range. Talk about a bad statement. We popped balls into a dude's cardboard cutout and let out a great vapor.
I found it quite anxious but exhilarating at the same time and I don't know how it could be. It was fun and fun until the guy in the next pit tries to teach us how to hit the bull's eye, which we don't care about as long as we hit the mark in general. Update: I found a bullet in my car?
(7/10 would do it again.)
Related stories from YourTango:
Seventh day
Coincidentally, the seventh day also fell on Valentine's Day. So the girls and I went to the mall for some great retail therapy and Hooter Chicken Wings. They were running a promotion where you could get free wings if you brought a picture of your ex to be destroyed.
What a time to live. New clothes + free wings = Happy Kaitlyn.
(10/10 would do again.)
When it's all said and done, I thought back to my thug week and all I can think of is, "What the hell is this?" I can't believe I did all of these things.
If I could go rogue every week, I would. But it is expensive (I think I spent almost $ 1000 !!), takes a long time (I didn't do any homework!) And I was exhausted by the end of the week.
I walked away from my thug week with a clearer mind and thicker skin. I was able to concentrate better and things didn't turn out the way they did.
Take out, if you need a break, take one. Nothing is so important that your mental health is at risk. Take care of you. Treat yourself well. Do something different. It just might save your life and your sanity.
More for you on YourTango:
Kait MacKinnon is a writer who focuses on relationships, love, and mental health. His work has been featured on Huffington Post, Elite Daily, and Thought Catalog.
This article originally appeared on Unwritten. Reprinted with permission from the author.
[ad_2]